St. Arnold Night Degree College Update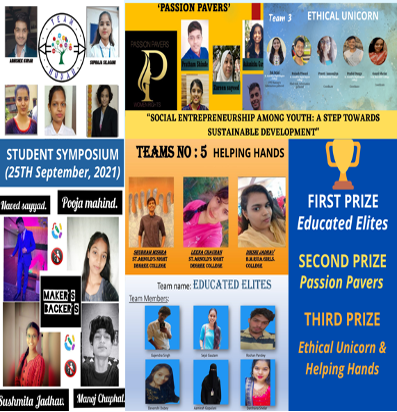 The First Session for BMS, BAF and B.Sc(IT) Batch started with a lot of zeal on 21
st
September, 2021. The students were welcomed to College by conducting an Orientation Program where Fr.Dr. Raja Reddy gave a motivational speech on "Intrinsic and Extrinsic Motivation" followed by Fresher's Party. The result were declared for Semester III. For SYB.Com  89.2% declared as passed and for SY B.Sc  100% students declared passed.15
th
August was celebrated by paying homage to the Nation by Flag hosting and organising a Drawing and Rangoli Competition on the theme "Humanity". Teachers Day was celebrated  by the students with a presentation of  a musical skit depicting the life after HSC exams and the fun during the Online Education. In order to sensitize the students on Disaster Preparedness, the Experts from the Disaster Management Department, Municipal Corporation of Greater Mumbai conducted 3 days training programme titled "My Family My Responsibility" for the students. The training on  segregation of wet and dry waste was also provided. As a part of NSS, various activities were taken up. The Students were helped to get COVID Vaccine in the MCGM Hospital at Dhobi Talao. Students worked hard for the Blood Donation Camp at Andheri station. One remarkable achievement our students did was to convince 83 individuals (Highest number) for Blood Donation. "Fit India, Freedom Run 2.0" conducted in College for 11 days. To enhance presentation skills, "Banking Model Exhibition" was organised as a Forum Activity. A PPT Competition on "Various Religions in India" was organized to mark the Constitution Day. As a step towards self employment a Student Symposium was organized in collaboration with Cluster Colleges and FES India. Students presented Sustainable Business Models on social issues relating to Education, Women Rights, Skill development, Health, Sanitation and Environment. To sensitize the youth on various issues of gender the following Programmes were conducted: "
Women and the Environment :
The Discussion came out with a conclusion  as   solution – as there is relationship between policy making, patriarchy and climate change.
"Social Entrepreneurship among Youth – A Step towards Sustainable Development": Students presentation of sustainable Business Models were very much appreciated. The panelist came up with options to promote the youth towards Sustainable Self Employment with Social Development.
"Economic Independence and Gender Equality": The Panelist shared their thought on Gender Independence and Agency in Creative Thinking, Women and Pandemic: Insights from Vulnerable Communities and Promoting Gender Equality and Creating a Safe Working Environment.
The series were streamed Live on Zoom and You Tube. It was attended by more than 230 participants from all over India.