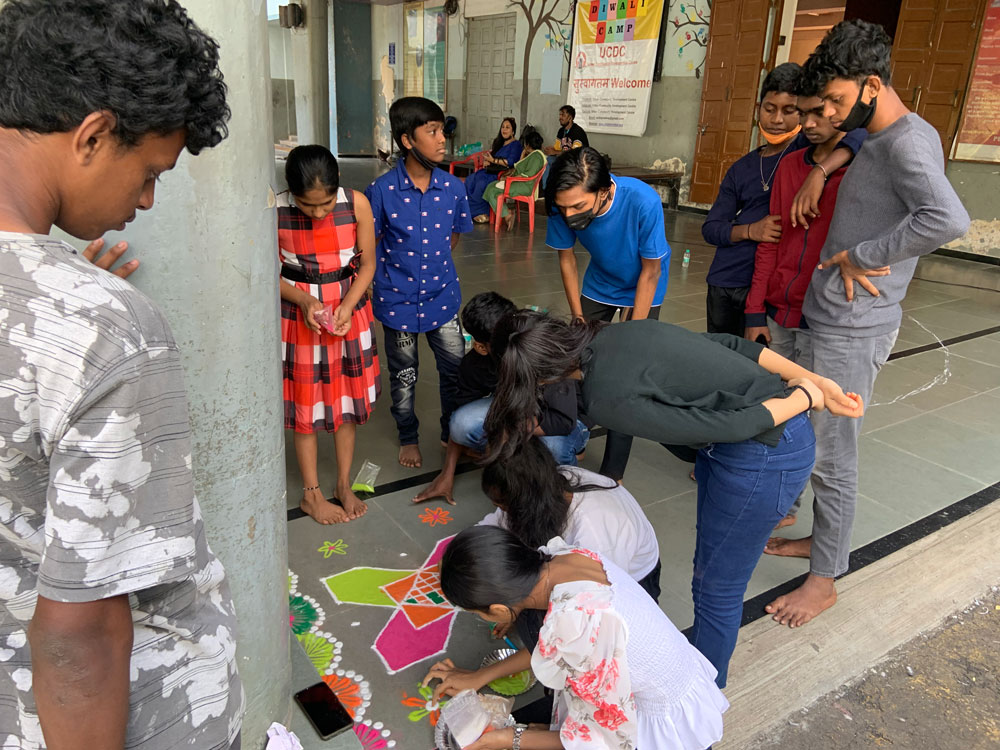 After the Covid-19 Pandemic this was the first event for the children of migrants, organized by the UCDC as the Diwali Camp.  Some of the objectives of this event were to bring the migrant children together; to help them grow in their inter-personal relationships and social skills; to learn/understand and integrate the values of leadership; to instill in them long-cherished values of teamwork, respect for one another and personal responsibility; and to develop self-confidence and self-respect.
The Camp began with a word of welcome and a short prayer by Fr. Cosmos SVD.  The whole group of 108 students were divided into five groups, who chose their leaders, and names for their respective groups.    Ms. Sarita and Ms. Seema organized a Yoga Program for all them They also worked a 'Rangoli' Making Competition.  Ms. Seema Bhasin and Mr. Pratik, a Choreographer were the judges for the Competition.  Ms. Seema Bhasin was overwhelmed by the beautiful Rangolis, and generously appreciated all the students. She also mentioned that it is the right time to develop their inherent skills and showcase their talents.  Ms. Theresa Varghese welcomed Mr. Pratik, who initiated some very good and easy dance steps to the students.  He also observed that there are many students who are quite talented and gifted to learn and perform this art in public.
After enjoying the sumptuous Lunch served by the 'Krishna Caterers', Choreographer Mr. Mark taught them some simple dance steps again, which they did enjoy much.   Later Ms. Goretti spoke at length on "Relationship". She encouraged them and motivated them towards mature relationship for their age. Everything came to a close in the evening thanking everyone, who contributed directly or indirectly to the successful conduct of the event of the day. UCDC is immensely grateful to St. Theresa's High School Management for providing us with the venue and all the facilities for the successful conduct of this beautiful event for our children.