e-SHRAM Card: Training Programme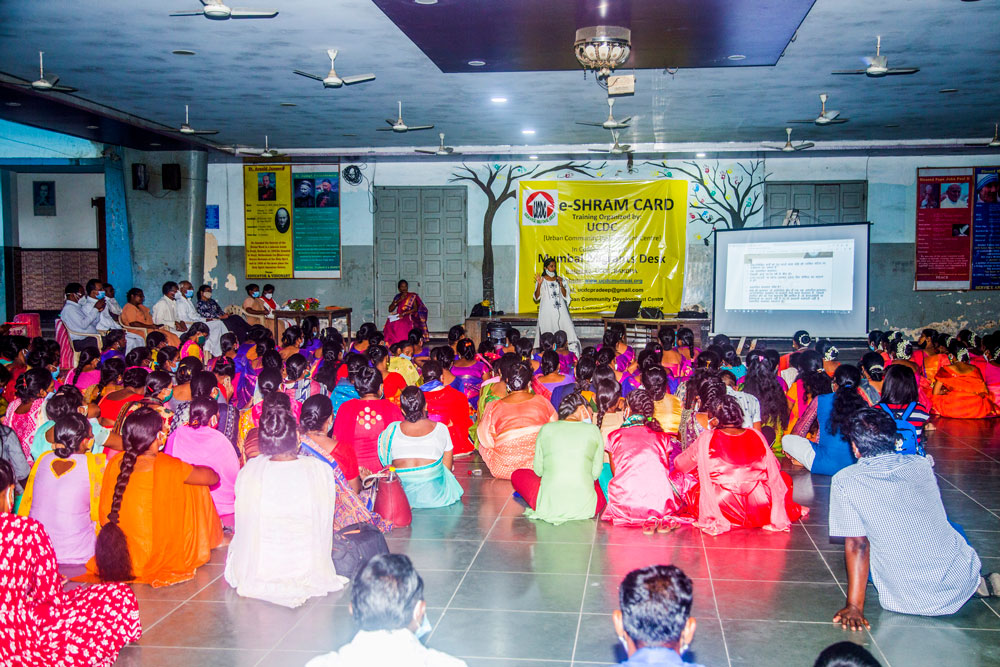 UCDC in collaboration with the Mumbai (Archdiocesan) Migrants Desk organized a training program for a sizeable (selected) member on e-SHRAM Card. e-SHRAM Card is an Unorganized Workers Identity Card through which they are empowered to avail Social Security benefits and Welfare Schemes from the Government of India. e-SHRAM is an initiative of the Ministry of Labour and Employment. The main reason and purpose of the ministry is to protect and safeguard the interests of workers in general and more especially the unorganized sector,who constitute the poor, deprived and disadvantages sections of the society.  The resource person for the day was Ms. Mishal Dabre from the 'Centre for Social Action'.  The dignitaries present were Ms. Maria Gomes from the Mumbai Migrant Desk, Fr. Paul Vattathara SVD, Director of Urban Community Development Centre, Fr. Jerome D'Souza SVD, Director of Maitri Sangatan, Sr. Elizabeth and Sr. Pushpa from Chembur, and Mr. Valentie and Ms. Sushma from Pahunch organization.  We had a total of 180 participants comprising mainly of five Women SHGs.
The program began with a welcome song by the ladies of Jagruti and Ekta SHGs. The resource persons and the dignitaries were welcomed with the bouquet of flowers.  The resource person explained clearly the concept and the objectives of e-SHRAM card and related schemes in a very simple language. The participants were given time for asking questions for clearing their doubts.  The migrants of Chotanagpur also celebrated the festival of Nava Khani, meaning, the taste of the new crops (Harvest Feast). Towards the end of the training the children from Bandh, the migrants of Bandra Station Zone and Mount Mary Zone put up beautiful tribal cultural dances.
UCDC acknowledges with gratitude and appreciates Fr. Glasten Gonsalves from Mumbai Archdiocese for providing the resource person for this training programme.  We are grateful to St. Theresa's School Management (SVD Fathers) for kindly providing us with the venue for the event.