CELEBRATION OF SACRAMENTS: REACHING OUT IN INTEGRATION AND FAITH FORMATION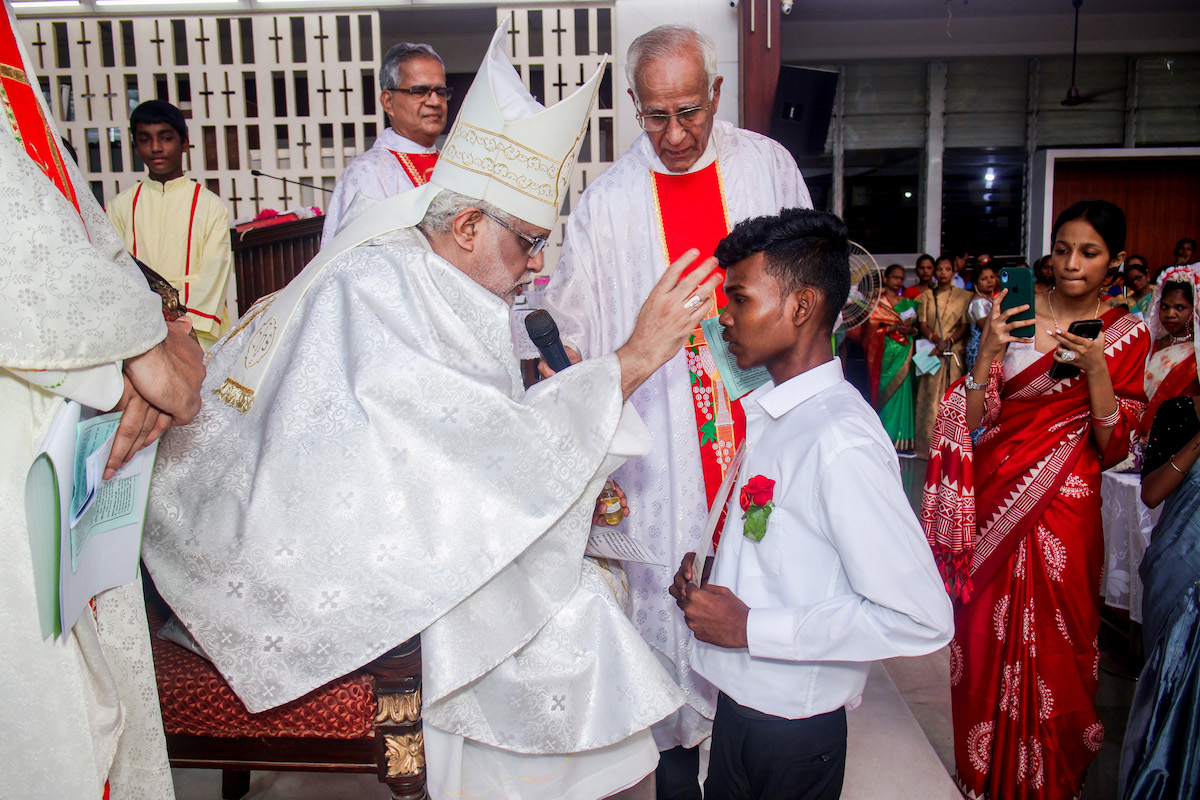 Maitri Sanghatan in collaboration with the Archdiocesan Migrants Commission organized the Rite of Confirmation and Mass-Wedding for our migrant Catholics in Mumbai, on 20th August 2023. Fourteen Candidates were Confirmed by Most Rev. Bishop Barthol Barretto, and four Couples received the Sacrament of Matrimony during the Eucharistic Celebration, presided over by Most Rev. Bishop Barthol Barretto, in St. Theresa Church, Bandra.  The concelebrants were Fr. Lawrence Correa SVD, Director of UCDC, Fr. Jerome D'Souza SVD, Maitri Sangatan, Fr. Glasten Gonsalves from Archdiocesan Migrants Commission (AMC) Mumbai and Fr. Cosmos Ekka SVD, the Coordinator of Maitri Sangatan.  There were more than a thousand faithful who participated in the ceremony.  The arrangements of the entire Liturgy were taken care of by the faithful of 'Bandh Zone'. It was made more meaningful and grander with a good blend of Piety and  Tribal Culture. The Liturgy included an 'entrance dance' by women of Mount Mary and Lalmati Zone, 'Washing of hands of the Bishop and Celebrants', 'Bible Procession dance' by Bandra Choir and 'Offertory Procession' by newly wedded couples. A good number of people were actively involved in the whole memorable event.  Fr. Cosmos appreciated the hard work of Fr. Jerome and Catechist Vijay Minj in preparing the candidates for almost a year.  It was purely because of their hard work and dedication the faithful could receive the sacraments. 
After the Solemn Eucharistic Celebration, Bishop, Priests, and the candidates who received the Sacrament of confirmation and the newly wedded couples together with their witnesses gathered in the council room for tea and snacks, provided by Fr. Henry D'Souza SVD, the parish priest of St. Theresa Parish.  Thereafter, all of them were taken to the school hall while hundreds of faithful sang Adivasi wedding songs and had Adivasi chain dance.  In the hall, the felicitation program began with a small prayer made by Fr. Cosmos.  The faithful sang wedding songs for the newly married couples and the faithful, who received confirmation.   Keeping the Adivasi Tradition in mind, the women washed their hands and gave them flower bouquets.  Brother Jay Solanki from AMC addressed the gathering by wishing all the best to all the faithful, who received the Sacrament of Confirmation and Marriage.  He said that 'as you are smiling this day, continue to smile even if the challenges come in your way by supporting one another'. The 'Wedding Meal' was provided by Fr. Glasten Gonsalves from Archdiocesan Migrants Commission.  Maitri Sangatan acknowledges their generosity.  The vote of thanks was given by Mr. Sushil Ekka. The program ended with a common Adivasi dance and a sumptuous meal.