SVD in Goa,India marks birth centenary of late Fr. Peter Verhaelen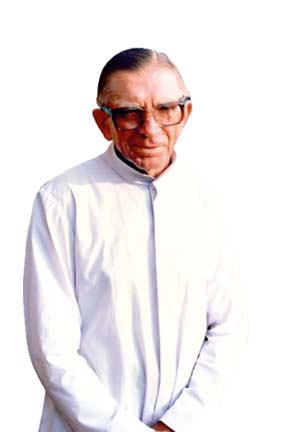 16th December 2021 marks an important day for the SVDs (Society Of the Divine Word), as the hillock located at Raia, South Goa, with its lush greenery and its many livestock comes alive for the centenary birth celebration of its fThe life of Fr Peter has been so magnanimous and exemplary that, hundreds remember him till date for his unforgettable humble nature, indomitable spirit of hard work, passion for nature, animals and of course the holiness of a true missionary.
Fr Peter, one of the last foreign missionaries to India. Born in the year 1920 –Goch, Germany, ordained a priest on 24th September 1951 and left for his mission country that is India. 1952-59 Rector, St Thomas Seminary At Mhow, Madhya Pradesh. Also Parish Priest of St Michael's Church Khurda, 25Km away and cycles to Khurda every weekend. In 1959-60 he was Rector St Paul's Apostolic school at Kadhuthurthy in Kerala and uses an Old Convent for Seminary. In 1960 he was sent to Mangalore to open a house St Peter's Apostolic School. From here he used to visit Kerala and Goa on his scooter more than 600km for future candidates . In 1964 Fr Peter set his eyes on Goa and built St Francis Xavier's Ashram. Fr Peter Verhaelen, served Indian formation throughout his life and could be easily called a mother of Early Indian Formation.
His mornings and evenings were devoted entirely to the Lord. Even a hard days work would not tire him away from prayer and scriptural reading . That was his resting place. Fr Peter spent little on dressing. He would at the most have two trousers and a few second hand shirts. His favourite food was anything that is cheap. Having gone through the ravages of war and having starved himself during this time, Fr knew the value of food. For him nobody ought to eat unless he has worked for it. And Fr Peter literally sweated it out for his share and for the seminarians too.
A man of few words, but his spirituality shone through his absolute simplicity. His room bore testimony to the person Fr Peter was. The only things that adorned his table were books on spirituality, his breviary and holy pictures. A corrosive watch was the only substance of value that could be found in his room. He had just an ordinary cot to lie on, his room was the smallest in the campus.Known to be unassuming and ready to help. An approachable priest who would spend long hours in the confessional and his gentle advice helped many. He had a listening heart. He epitomized the qualities of a real Missionary. Volumes could be spoken about this humble priest
Laid to rest on 16th December 1998 on his Birthday. On 16th December His grace Rev. Filipe Neri Ferrao presided the Eucharistic celebration. In His Homily His Grace pointed out salient qualities of Fr. Peter, his simplicity, integrity, prayerfulness, hardwork and love of people.
Highlighting this somber mega event is a Ballet named Vavraddi – The Worker. The Ballet named Vavraddi by Agnelo de Borim, directed by Gokuldas Borkar, The play has an opening scene in Germany during the war while Fr Peter was taken to be a male nurse. The story depicts the personality of Fr Peter epitomizing his personality and virtues.