SARVA SEVA SANGH, KERALA CELEBRATES KARAM FESTIVAL WITH THE MIGRANTS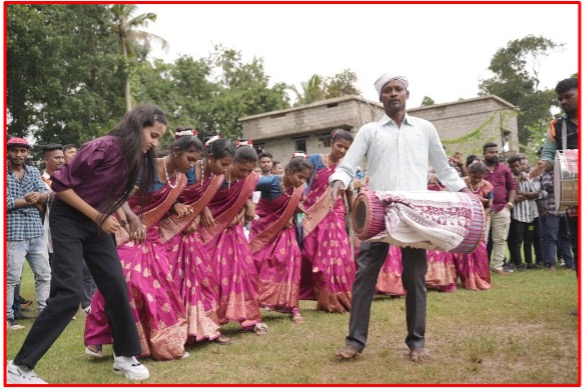 The small town Changanasserry in South Central Kerala witnessed a rare festival of its kind and a gathering of over 1400 migrant tribal people from North and North East India on Sunday, 15th October, 2023. They had gathered from across the Seven districts of Kerala, namely, Idukki, Kottayam, Ernakulam, Trissur, Alappuzha, Pathanamthitta, Thiruvananthapuram and Quilon to celebrate the exciting and rare festival called Karam. These 1400-plus tribal migrants hail from the States of Jharkhand, Assam, Odisha, Chhattisgarh, West Bengal, Bihar, and Arunachal Pradesh.  Sarva Seva Sangh – Kerala, the centre for the empowerment of migrant labourers, organised this tribal festival and brought together over 1400 Adivasi migrant labourers from across South and South Central Kerala.
Karam is a harvest festival celebrated by various tribal communities, including the Oraon, Munda, and Ho tribes, who are indigenous to the region and the people pray to God for a good harvest. This has been the first time in Kerala that the tribals had an opportunity to celebrate this festival.
The Karam festival celebrations began with the Holy Eucharist in Hindi at St. Mary's Church, Parel and was presided over Fr. Nicholas Barla, the CBCI Secretary for the Tribal communities, New Delhi and Fr. Babu Kakkaniyil, Director of Sarva Seva Sangh -Kerala and Fr. Mathew Chennakudy, Rector of St. John's Mission Seminary were concelebrants with him. The traditional dances and singing during the Eucharist made it a great experience. The Holy mass was followed by lunch and the traditional Karam celebrations in the Seminary premises. The beating of the drums, singing and music and the excellent dances made this a memorable day for the migrant tribals in Kerala. Sarva Seva Sangh arranged this event as part of its many efforts for the welfare and empowerment of migrant labourers.